Geeking out about the garden
Devon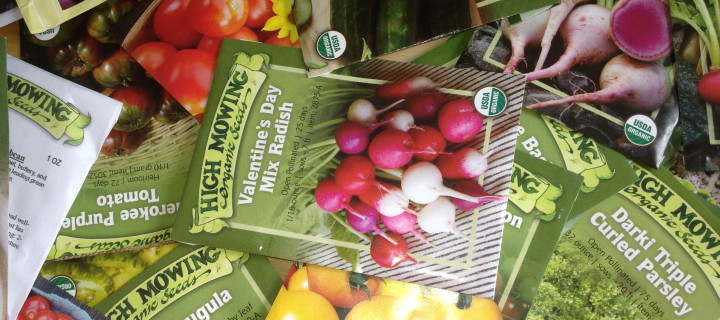 Tomatoes. Real ones. Not the tasteless, hard, orange stand-ins labeled "tomatoes" at the grocery store. Sun-warmed on the vine in the yard, with that musky green scent that is unmistakably tomato plant. If you're thinking about growing your own this year, it's time to start buying seeds and making garden plans; the first seedlings should be started around St. Patrick's Day.
Now if you're the kind of gardener who would rather buy plants and stick them in the ground in late May, there is absolutely nothing wrong with that. Any form of growing your own food should be celebrated, and there's no shame if you don't have the time for or interest in starting from seed. But if the pages of  seed catalogs or racks of colorful packets are speaking to you, keep reading.
Starting seeds
There's a lot of misconceptions that staring your own plants from seed takes a ton of expensive gadgetry. Grow lights, special seed-starting trays, warming mats, biodegradable pots, greenhouses, south-facing windows – bullshit to all of that, I say. Growing up, my mom started tomatoes in yogurt containers on the floor in front of the west-facing sliding glass door in the family room. And by August, once those tiny baby plants had time to do their thing in the garden, the plants were far taller than me and heavy with ripe, red treasures. Buy the gear if you want to, but skip it if you'd rather experience the frugality of getting pounds and pounds of produce for just a few dollars in seeds. I'm not going to get into the how-tos of seed starting, but these people do a great job of explaining how to do it.
Some veggies are started indoors ahead of time:
– tomatoes
– peppers
– eggplants
– fennel
Some can be started inside OR planted directly into the soil:
– cucumbers
– squash
– kale
– chard
And others are best planted directly into your garden:
– lettuce
– peas
– beans
– basil
– root crops like carrots, beets, etc.
– corn
Timing
When to start seeds indoors depends on each vegetable variety and where you live. Here in Buffalo, a safe "planting date" – when you actually put stuff out in the garden – for most veggies is usually Memorial Day weekend or the weekend before. Using Memorial Day as the planting date, here are the dates for 2017:
10 weeks before planting date (start peppers, eggplants, some tomatoes) – Sat. 3/18
8 weeks before planting date (start most tomatoes) – Sat. 4/1
6 weeks before planting date – Sat. 4/15
4 weeks before planting date – Sat. 4/29
Average last spring frost/soil can be worked (plant spring crops like radishes, peas, lettuce) – Sat. 4/29
Memorial Day weekend (plant your seedlings and sow seeds directly into the garden) – Sat. 5/27
I'm a little type-A and easily forget dates, so I round up all my seeds and separate them into plastic bags marked with the date they should be started inside or sown directly into the ground outside, then mark the dates on my calendar as a reminder. That way I don't come across some errant envelope of eggplant seeds three weeks after they should have been started.
Buying seeds
There are roughly one zillion seed catalogs out there, and once you order from one or two, they start arriving by the dozen around November every year. It seems like every grocery and hardware store sprouts rotating racks of seeds around now, too. I personally love High Mowing Seeds from Vermont; they're all organic and really high quality. You can order online or find them in an increasing number of stores (I just saw that Wegmans has them). Other good quality companies are Burppe, Jung, Seeds of Change, and Seedsavers Exchange. When buying seeds, check the packet for this year's date. While many seeds can be saved for a few years, it's best to start with ones designated for the current year.
Because most packets contain way more seeds than you'll need, consider sharing with someone else. An evening of garden planning and wine drinking with friends is where it's at (although it's best to place your order when you're not sauced; a few glasses of sauv blanc is why there will be artichokes growing in my front yard this year). A list of what I'm growing this summer appears at the end.
Planning the garden
Alright, so we know where to buy seeds and when to start them. But sometimes the trickiest part is figuring out what to grow in the first place. It's easy to get over zealous and buy way too many seeds for your space, or, be overly cautious and end up with bare patches all over your garden. Here's some advice on selecting plants and determining your space:
If you don't like it, don't grow it. It seems obvious, but seed catalogs are like veggie porn – they make you really excited in ways that aren't always realistic. I can't stand okra, but it looked SO good one year I bought it and planted it anyway for gumbo I never made. Total waste of space and energy.
Go measure your garden so you know exactly how much space you have. Seriously.
If you're new to gardening and are not sure how much room each plant needs, try this neat little tool. It lets you create a space that's as big as your garden and drag different veggies into the space to see how many will fit, then save your work to reference later.
Make graph paper your friend. It's not entirely necessary to draw a scaled diagram of what you're putting where, but it really saves a ton of time and aggravation when it comes time to plant. It allows you to make sure the tall stuff ends up in the back, the sun-lovers have sun, the most often used things are easiest to reach, and everything has plenty of room to thrive. It'll also help you figure out how many of each plant to start ahead of time, so you can rope friends and family into saving their yogurt containers for you.
So that's it. Figure out what you want to grow, buy the seeds, and start them. If it doesn't work, you've wasted a few dollars and can just go buy plants later on. If it does work, you'll be hooked. This will be my 10th year growing my own food, and it never ceases to absolutely blow my freakin' mind how a tiny seed just a few millimeters big can turn into a tomato plant that's six feet tall and heavy with the best-tasting things summer has to offer.
Check out my step-by-step instructions for building cedar raised beds. They allow you to fit a shit-ton of plants in a small space, and make it possible to form a garden over soil that's contaminated with lead or black walnut roots, or even in your driveway. 
2014 garden contents
* denotes varieties I've grown before and would highly recommend
Artichoke, tavor
Asparagus, variety TBD
Beans
– rattlesnake pole (fresh & dried)*
– cherokee trail of tears black (dried)*
– Christmas (dried)*
– edamame, midori giant*
Beets, touchstone gold*
Carrots
– Miami
– dragon
Corn, Tom Thumb popcorn
Cucumber, marketmore*
Eggplant, little finger*
Greens
– kale, dinosaur (lacinato)*
– kale, red Russian*
– arugula, astro*
– chard, ruby red
– lettuce, simpson curled
– mesclun mix
– radish greens, hong vit
– radicchio, palla rossa
Hops, variety TBD
Peppers
– hungarian sweet*
– jalapeño*
– gernika (sweet, smuggled from Spain)
– cayenne purple
Peas, sugar Ann*
Potatoes, German butterball*
Radishes
– watermelon*
– Valentine's day mix*
– cherry belle
Squash, tivoli (spaghetti squash)
Tomatoes
– green zebra*
– sungold cherry*
– moskovich
– indigo rose*
– yellow brandywine
– Matt's wild cherry
– Cherokee purple*
– glacier saladette
– yellow perfection