In the field: Senek Farms
Devon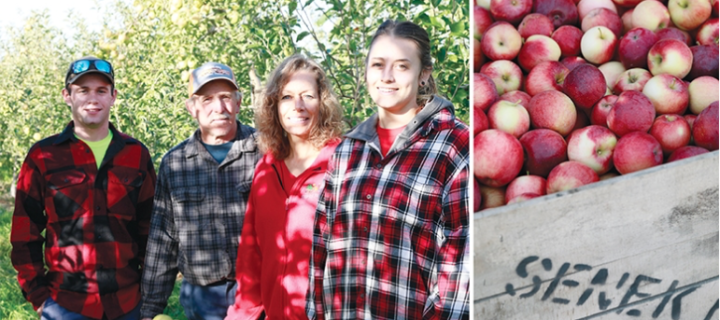 This article originally appeared in Buffalo Spree Magazine's November 2017 issue.
Apples are the indisputible harbingers of fall. Come September, the round, red fruit signals "back to school" from every store ad and end cap. Their role in pies sends taste buds into a spiced autumnal tizzy that rivals pumpkin for many. Apples are bobbed for, candied, sauced, sliced, and pressed into sweet cider.
For the Senek family in Niagara County, though, apples are a year-round affair. Between spring pruning, summer watering, fall picking, and winter storing, four generations at Senek Farms have had their hands in apples since 1922, when Tim Senek's grandparents came to the United States from Eastern Europe, opened a dairy, and started planting apple trees
The orchards are on and around Youngstown-Wilson Road in Ransomville. Instead of one contiguous piece of land, over 700 acres of parcels have been pieced together and added on to over the years, sprawling with various vintages of outbuildings and homesteads of extended family over a handful of country blocks navigable by narrow roads and tractor paths. Although the cows were sold twenty-four years ago, the Senek's dairy barn and silos still overlook neat rows of Ida Reds.
The silos aren't the only marker of the Senek's evolving agricultural methods. Driving through the network of orchards reveals two vastly different types of tree-growing practices. There are the traditional rows of squat trees spaced a couple yards apart with wild branches full of dense leaves and ripe fruit; these decades-old trees are the ones everyone envisions when they think "cute place to take fall photos with the family." But, new schools of thought have grown out of decades of research and testing at agricultural institutions like Cornell University that have influenced how the Seneks and other growers establish new orchards.
Down the road and around the corner from the traditional apple groves are newer orchards that look similar to grape vineyards at first glance. The trees are smaller and planted closer together on trellis lines that train them up and out laterally. These concentrated stands produce higher yields with less labor and resources spent on watering, pruning, pest control, and harvesting.
On old trees and new, the Seneks grow more than a dozen varieties of apples ranging in size, color, and sweetness. Tart, green Lodi apples are the first kind to come off the trees in July. By September, bins are brimming with Mutsu/Crispin, Empire, Jonagold, Gala, Fuji, Red Delicious, Golden Delicious, MacIntosh, Cortland, Macoun, Honeycrisp, and Pipin. Picking winds down with Ida Red in early October.
Some apples go straight from the orchard to area farmers markets, where Tim Senek's wife Sheri and a loyal following of family and friends have been staffing stands in Williamsville, downtown Buffalo, Niagara Falls, and North Tonawanda (the latter two being summer and winter markets) for over twenty-five years. Other fruit ends up in creative culinary hands at Marble & Rye, Elm Street Bakery, the Massachusetts Avenue Project Mobile Market, and the Grove Juice Truck.
The majority of apples picked at Senek Farms go into controlled atmosphere (CA) storage, which is designed to preserve apples' texture and flavor so that apples eaten in March taste the same as the day they were picked in September. Fresh apples are loaded into temperature-controlled rooms, the doors are sealed, and the oxygen is sucked out of the space. Without oxygen, the apples don't degrade into the mealy, tasteless fruit most people associate with stored apples. The rooms stay sealed until January or early February, when huge bins of apples are taken out and sent to packing houses that distribute Senek apples around the world, or are taken in smaller batches to a winter farmers markets here in Western New York. The doors are re-sealed each time apples leave the space to keep the rest perky and sweet for the remainder of the winter and into early spring.
While some people covet the Seneks' fresh apples, others can't wait for their cider. It's pressed at Robert's Cider Mill in Medina using mixed batches of 100% Senek apples, meaning the flavor changes a little as the season progresses; early batches are tart, later ones get sweeter. They press from September through April and never add sugar or preservatives.
The Seneks are undoubtedly known for their apples, but their orchards and fields yield plenty of other summer season sweet treats on a slightly smaller scale, too. At market you'll find Redhaven and donut peaches, yellow and red plums, nectarines, Bosc pears, sweet cherries, blueberries, and lots and lots of strawberries. Another tree-borne customer favorite is Osage oranges, bumpy bright green orbs that aren't edible, but they repel spiders with a resiny pine-citrus scent.
Some say the apple doesn't fall far from the tree, and Sheri is hoping that's the case with her three kids, all of whom are young adults pursuing their own careers while still helping in the orchards and markets. They would become the fourth generation of Seneks to keep Western New York in apples, and to their parents, that idea is pretty sweet.
Photos by KC Kratt